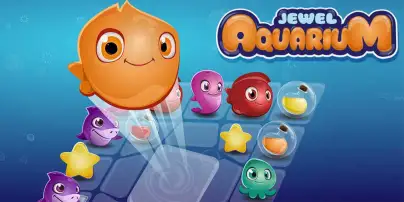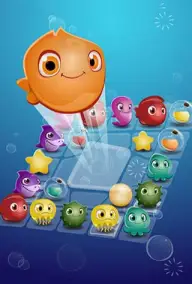 Jewel Aquarium is a match-three game. You know the old saying 'three's a party, fours a crowd?' Well in Jewel Aquarium you see the truth in that statement. A fun underwater sea adventure! Match 3 or more of the cute fishies to complete each of the levels. Over 60 different levels to keep you entertained as you attempt to match to unlock enough jewels to complete each challenge.
Jewel Aquarium is a cool match three game with a fun aquarium based theme – you play on various underwater levels and interact with sea creatures and fishes! During each level you must try and match together three of the same color of fish – when you match three together, they disappear and more fall into their place. To move the fish you simply click and drag them into place.
When you match four together in a row, you can create a special circular coral – when this special piece is matched together it then removes a wide radius of fish surrounding it. Try and match two special pieces together to remove even more fish in one go! Look out for the multi-coloured coral too – this piece removes all fishes of the same color from a level when matched. Work through each level and try to complete them with three stars, how far can you progress in this awesome match three game?